Debbie On A Raw Ride Until Our Troops Come Home!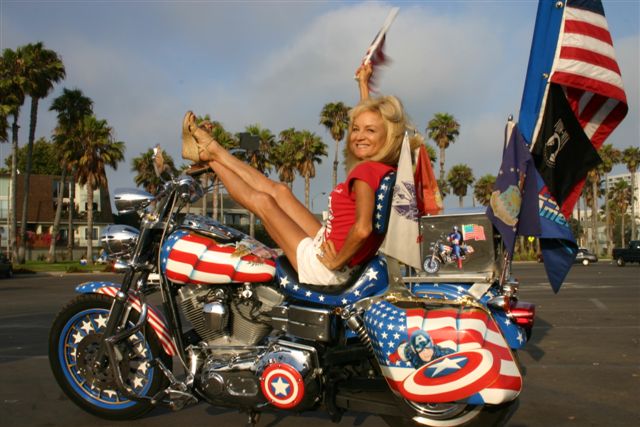 Click Here
For The Debbie Merrill Show News And Information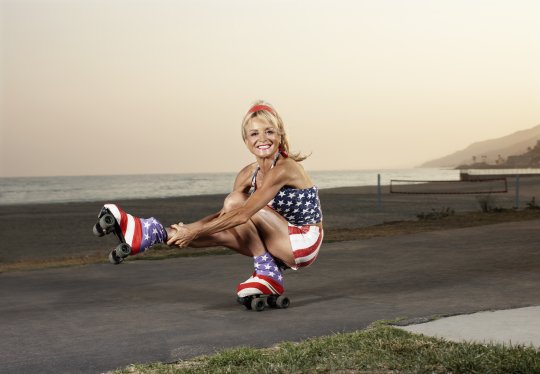 Hey America Debbie Merrill wants you! Debbie wants you to eat less and live more because that's mother nature's law." Lets get healthy America and eat for longevity, fitness, health and beauty and if you do you'll look like me and be a CUTIE!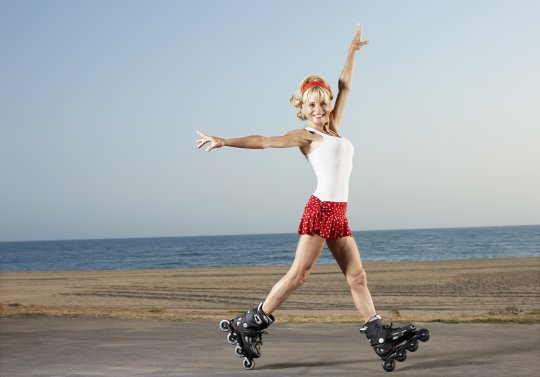 Debbie's New DVD... Buy It Now!!
"Learn To Inline Skate To Look And Feel Great At Any Age"
"Whether You've Ever Skated Or Never Skated - This Is The Video For You!"
Here Is What People Are Saying!!
"Debbie's method really worked for me and my family. The new Learn To Skate video was a great way of keeping up with the lessons"

Peter Chelsom, Film Director

"Debbie is a fantastic teacher, we had an absolute ball with her!"

Melanie Griffith, Actress

"Debbie's technique made my
skating fun, easy and effective for NYPD Blue."

Kim Delaney, Actress

"Debbie Merrill is a great teacher and dancer. I would have been lost without her."

—Steve Martin
Actor, Comedian

"Debbie Merrill's instruction was a life changing experience for me. She is my lifestyle guru in exercise and diet."

Jane Velez-Mitchell, TV Correspondent

"After viewing the video, I can honestly say that Debbie's enthusiasm & fun teaching sequences are a great way to get started with the basic stride, stopping& turning skills a beginner needs. Tuck her catchy words of wisdom under your helmet & you may just experience the "Merill Magic", she promises on your first day."

Liz Miller, IISA-Certified FIT & Level 2 Instructor &
Author of "Get rolling" & Advanced Inline Skating

"Debbie taught me to skate with style and grace."

former LA Mayor, Richard Riordan

Click Below To Order Your Copy Now!
Only $18.99 plus Shipping
(California residents include sales tax)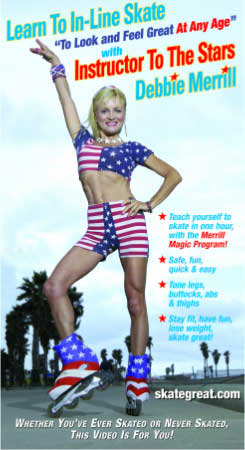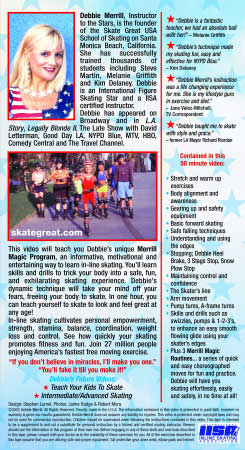 Return Policy: Unopened, sealed products returned will receive a full refund of the original price paid, less shipping and handling.
Sorry, opened products may NOT be returned.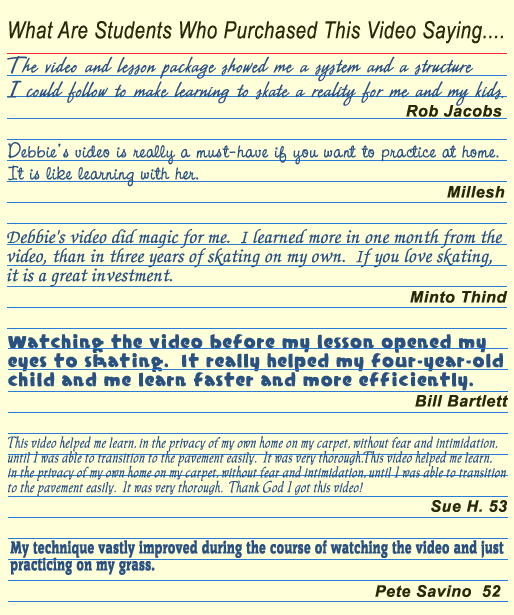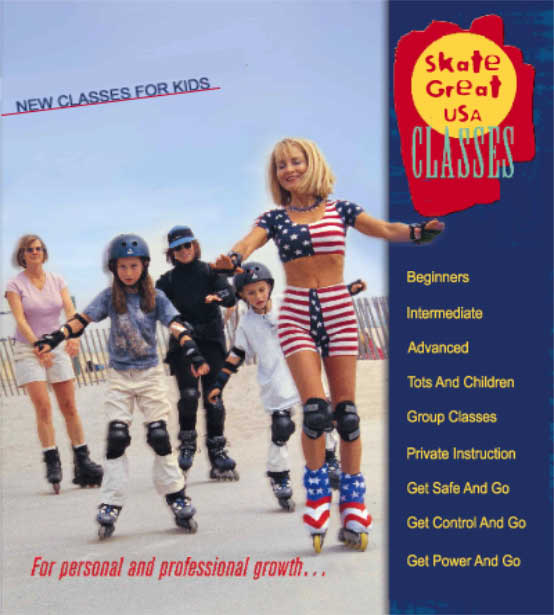 | | |
| --- | --- |
| "Achieve proficiency, in In-line or Roller Skating, by avoiding bad habits and learning proper techniques. My personalized lessons combine more than twenty years' skating experience and with psychological insight, an upbeat approach and respect for each students uniqueness and creativity. The basic premise of my instruction is that all possess the potential for increased athletic ability, happiness, health and success. Our instructions are designed to empower each student with an ever increasing sense of connection to this potential. To a large extent skating is a meditation. You feel a greater force alive within you when you are in it's creative, poetic motion." | |
ONLINE VIDEOS

ABC TV's Jimmy Kimmel Live featured "Debbie Merrill" in this special episode and you can see it right here now! Click picture or this YouTube link.
Los Angeles and San Francisco Carnival Parades
Paramount Studios
Performance for Homestead Hospice Association
Center For Early Education
Corterlain School
St.Monica's Smash Action
Aids-Dance-Athon
Hollywood Museum Performance for Hathaway Children's & Family Services
Skate Great USA founder, Debbie Merrill, fell in love with inline skating when it first debuted on Venice Beach, California in 1985. A silver medalist in U.S. figure skating, she opened California's first inline skating school, "Glide With Pride", in the summer of 1986 because she wanted to bring the artistry of figure skating out of the ice rink and onto the beach.

Skate Great USA's mission is to make learning to skate SAFE, FUN and EASY. All Skate Great USA instruction incorporates Debbie's teaching philosophy and her emphasis of the skater's edge. "Understanding the edge is the key to right technique," explains Debbie, "and right technique is the key to great skating." The Quick Edge™ and Edge Master™ programs taught by Skate Great USA evolved out of Debbie Merrill's more than 20 years of experience teaching all forms of skating as well as dancing.

Skate Great USA offers group and private classes for both adult and children in recreational inline, roller and ice skating. We also offer custom classes in specialties including skateboarding, hockey, extreme, distance, fitness, dance and figure skating. All instruction includes technique demonstration, move breakdown and supervised practice with monitoring and adjusting from expert Skate Great USA instructors.

We've successfully taught our program to more than 10,000 students from all over the world. Let us teach you how to "get rolling" today!

Inline & Roller Skating at Perry's Cafe #2
At 2400 Ocean Front Walk, Santa Monica Beach
Click here for location information


Skate Great USA is Fully Licensed and Insured

With double certifications from the International Inline Skaters Association (IISA), Debbie knows that there is a big difference between taking a skating lesson and learning to skate. "Learning to skate is a process, not an event," explains Debbie. "You will learn more in one Skate Great USA lesson than most other schools teach in five. But, becoming a great skater requires continuity and commitment which is why most of our students take our multi-lesson courses."

Debbie Merrill's clients range from major celebrities to school children and from absolute beginners to competition-level skaters. In addition to private instruction, she provides inline, roller and ice skating consulting, coaching, choreography, casting and location scouting. Debbie is also available through her agent for demonstrations, exhibitions and performances (SAG/AFTRA/AEA).

An international skating show performer, Debbie also is the founder and choreographer of "Taste of Brazil" and "LA Hot Wheels" Skate Dance Troupes.



---

Times, Rates and Duration

Classes are one hour in length.
Regular rates are charged Monday thru Friday from 10am–5pm.
Weekends and all other times are considered Premium Hours.
Call 310-625-0059 for appointments.

Rates for special services*, instruction at your location, during weekends or Premium Hours are priced separately. Quotes for contracting days or for longer periods are available upon request.

*Special services include Choreography,
Casting, Location Scouting and Consulting.
IISA Certified Instructor
(Levels I & II)

US Figure Skating Association
Silver Medalist